Dear BPS Families,
It is my pleasure to welcome you to the BPS website. As your partner in the education of the students of Branford, we have a shared goal in creating a state-of-the-art learning community that prepares students for success in school while posturing them well to pursue their post-secondary areas of passion. True to the spirit of our district vision, we are all learning today, and leading tomorrow.
As we prepare students for this rapidly changing world, we look forward to navigating the future together by ensuring that students have the skills and dispositions required to navigate change and uncertainty with confidence and success. The district's Global Learning Competencies provide common language to shape our work across all grade levels and content areas.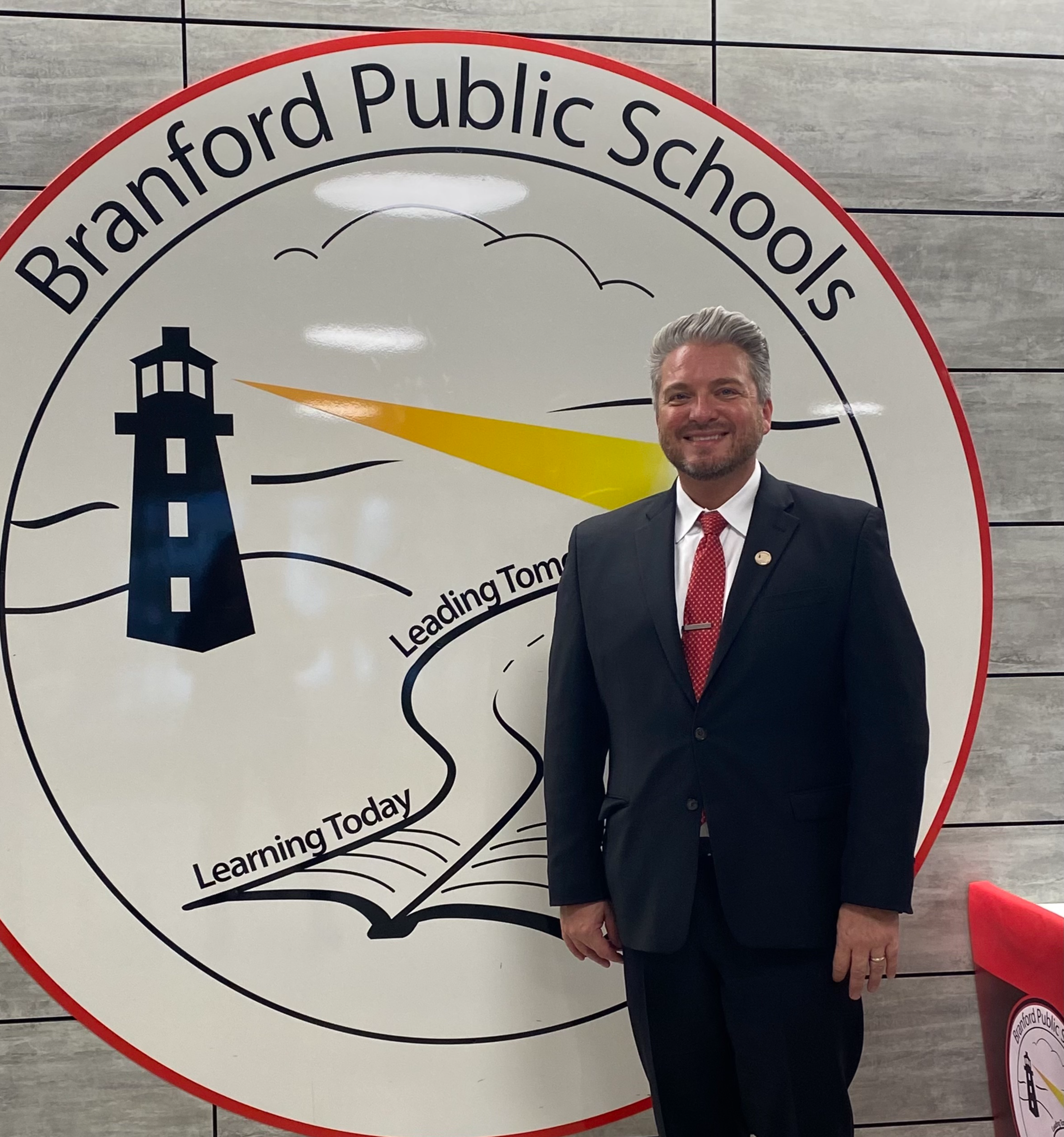 Branford is fortunate to have a team of talented educators who are highly invested in the education and wellbeing of students. The core beliefs of growth mindset, reflective practice and continuous improvement are evident in the thoughtful planning and leadership of teachers, administrators and support staff across the district. With a strong commitment to collaboration and professional learning, members of the BPS team work together to build the capacity of young learners so they graduate with confidence and opportunity. Your ongoing support makes that possible.
When considering the schools, shoreline, shops, restaurants, first responders, libraries and supportive town officials it is no surprise that Branford is such a special place. Above all, the town's greatest asset are the amazing people that make this small town feel like home to family and friends alike. Thank you for visiting our website and supporting us on the path to an even brighter future.
Christopher J. Tranberg, Ph.D.
Dr. Tranberg joined the Branford Public Schools in July of 2023 as the Superintendent of Schools. With over two decades in public education, Dr. Tranberg brings experience as a teacher, department leader, assistant principal, principal and assistant superintendent. Immediately preceding the start of his tenure in Branford, he served as the assistant superintendent for curriculum and instruction of the Darien Public Schools. As an active presenter and consultant, Dr. Tranberg regularly works with school and district leaders across the country on the topics of high reliability organizations, curriculum design, high-quality instruction, collaboration and assessment. Dr. Tranberg's research interests include principal leadership, collaborative leadership and the science of meetings. Dr. Tranberg is a published author with GIA publications.
Doctor of Philosophy (Ph.D.) Educational Policy, Research and Administration
University of Massachusetts Amherst
Master of Music Education (MMED) Early Childhood
The University of Hartford - The Hartt School
Bachelor of Music Education (BME)
Baldwin Wallace University
Superintendent Certification Program
Sacred Heart University
Certificate of Educational Leadership
Sacred Heart University